Tough Gear
Back in the 1930's when miners and fishermen needed tough, waterproof outerwear to survive a day's work, Kaufman Canada supplied them with industrial strength protection. Now, over 70 years later, miners, and the marine and forest industries still depend on our gear.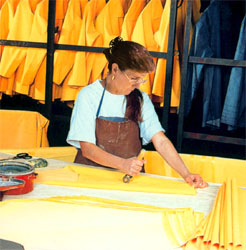 An employee rolls down a seam on a garment component, working out the air pockets and creases. A generous overlap, followed by the vulcanizing process, results in welded seams that are 100% waterproof and guaranteed never to separate.


Although Kaufman Canada no longer exists, Black Diamond Waterproof Clothing Limited purchased the clothing division from Kaufman Canada. We also acquired all the rubber formulas and construction techniques used in making all the garments from Kaufman. All of our current staff are former Kaufman employees.
Black Diamond Waterproof Clothing Ltd. supplies a wide range of Zephron neoprene clothing and accessories; from aprons and sleeves for work in food processing plants, to specially made full-body protective suits that protect cleanup crews in nuclear power plants.
Years of accumulated knowledge and craftsmanship are built into every piece of Zephron clothing. Join the generations of workers that have come to rely on our tough outerwear for serious protection.
Serious Work Demands Serious Protection
Zephron clothing is built and tested against the most rigorous testing standards - our own. Continuous field testing and torture testing of components and materials assure maximum performance on any job site. Our materials are formulated to resist everything a work environment can throw at them; from abrasion and extreme temperatures, to acids, oils and solvents. Black Diamond builds clothing that's right for your job!
All processing of clothing component parts are done in our own plant, so we are able to guarantee the consistency of performance and quality levels. All nylon fabrics are treated and pressure-coated to our rigorous standards. Our expert staff cut and hand assemble each garment using pressure welded and vulcanized seams that are guaranteed 100% waterproof. We use only quality leather components and metal buttons and fasteners.
Generations of experts have applied their unique skills to the job of creating the sturdiest, most dependable protective outerwear available. We are proud to say our garments outlast those of our competition.
Wen you have a serious job to do, count on the serious protection of Zephron clothing from Black Diamond Waterproof Clothing Ltd.